Please Note: Reservations are NOT required for Myees Garden Room
Closed Two Weeks for Something New…. New Menu – New Feel!
In the year since the Carrington restaurant reopened we've had several suggestions to make it better.
Now, as we prepare for our first anniversary, we are updating the restaurant format accordingly! Be prepared for a popular new menu, wider drinks selection, and a comfortable casual dining feel!
To prepare for the changes, the Carrington restaurant will be closed for two weeks from September 6th until Thursday September 21st. However, during that time, we invite our guests to eat at our companion restaurant, Café Woodworks, which is open daily from 9am to 5pm and open for dinner Friday and Saturday from 6pm.
Stay tuned to our Facebook page as we share more about the Carrington restaurant changes.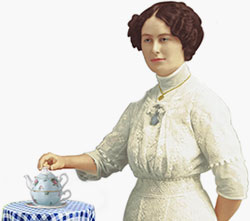 The Venue: The Garden Room is comprised of the conservatory dining space, the sunny Malbon Street Veranda, and lovely garden bench seating in the Elm Park garden.
The décor of Myees Garden Room pays deference to the 19th century colonial Victorian nature of the Carrington Inn.  Its two north-facing leadlight windows feature prominently. The use of creams, greens, whites, and pink colours creates an uplifting and airy space.   Its authentic hand-painted Anaglypta wallpaper, green slate floor, hanging flower baskets, fragrances, and furnishings express undertones of a Victorian nursery conservatory.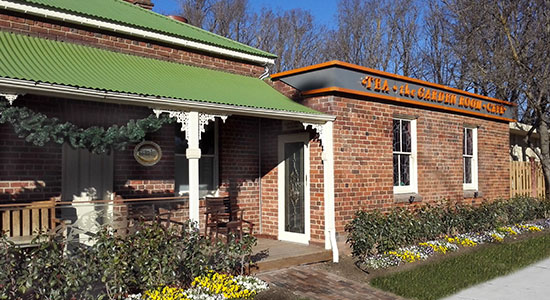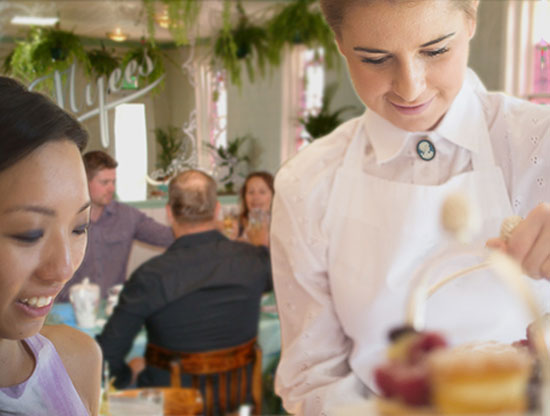 The Food:  Myees Garden Room is a wholefood establishment from its tea to its scones.  Its signature offerings include MyTea® – Personal-Size High Teas throughout the year.
The menu draws its inspiration from family memories a century ago, when wholesome and lovingly prepared tea and sweets would reward visits to an auntie or grandmother's house.  Accordingly, Myees' menu has a small selection of very good food and beverage items. Our Pastry Chef bakes beautiful first-class pastries and sweets onsite with fresh and wholesome ingredients.
Myees offers a wide assortment of premium organic teas, cocoas, and hot & cold coffee drinks.
Exclusive to Myees is cold brewed coffee on tap.  This is a new and exciting beverage concept that offers a gorgeous glass of tasty, ice cold coffee with a big crema head.  Simply brilliant!   Guests can enjoy wine and beer with their food too.
Handmade Carrington Delights (a la carte):


mini-gateaux, petit four, macaroon, chocolates, Eton mess

3–7

Handmade Scones:


with Cream and Homemade Preserves 

8

Chefs Selection of Petite Sandwiches (six quarters)


2x Tuna mayonnaise with cucumber on Rye bread




2x Cured ham with mustard tomato and salad on Rye bread




2x Mature cheddar with branston pickle on White bread

10

Coffee and Tea
Also refer to full beverage list
MyTea™


Selection of Large Finger Sandwiches (2)
Selection of Handmade Carrington Delights (3)
Scones with Cream & Preserves (2)
Chefs Finger Fancies (mini-savories) (2)
Organic Tea Selection

30pp

Sparkling MyTea™


Glass of Sparkling Wine
Selection of Large Finger Sandwiches (3)
Selection of Handmade Carrington Delights (4)
Scones with Cream & Preserves (2)
Chefs Finger Fancies (mini-savories) (2)
Organic Tea Selection

40pp

MyTea™

Group Bookings


POA
11:30a – 1:30p
Tapas
Belly the Kid


In a mini-skillet, Chef serves 180 grams of crackling good cubed pork belly, topped with slivers of almonds and jus. The dish is complimented by apple dipping sauce, grilled garlic toast and garnished with a cherry tomato. Serving for two.

15.00

Cala a la Carrington


No one serves calamari like The Carrington. Your Tapa basket of crisp home-battered calamari rings is garnished with toasted Nori seaweed. It's complimented by lemon and a homemade dipping sauce of Saffron aioli and chunky apple.

16.50

Cigarros de Pescado


For this Tapa, Chef prepares a rich, creamy seafood filling and rolls it into four long pastry spring rolls before deep-frying to a crunchy golden brown. Curry aioli and grilled sour dough compliment this serving for two.

13.50

Grilled Veggie Roll


Asparagus, capsicum, and eggplant are lightly grilled in olive oil. Chef then rolls them into two servings and tops with shaved Parmesan. The dish is signed with a pesto and vinaigrette sauce and served with grilled sourdough toast. (GF-A/V/VEG-A)

14.50

Heavenly Wings


Chef prepares a generous 350 gram bucket of golden brown chicken wings. This mini-feast is accompanied by Carrington's delicious BBQ dipping sauce, made with mango, soya, and garlic. It is garnished with sesame seed and served with garlic toast. (GF-A/Seeds) 

16.00

Hot Popped Mussels


In a gorgeous sauce of white wine, garlic and cream, Chef serves a very fine sharing Tapa of fresh mussels – 350 grams. The serving is garnished with distinctive smoked chilli and a lemon wedge. Grilled garlic bread is also included. (GF-A) 

19.50

Kebabs del Mar


This seafood-lovers Tapa has two skewers of grilled seafood – salmon, baby octopus, prawn – garnished with cherry tomato and lemon. Chef includes a dipping sauce of fresh Romesco – almonds, capsicum, wine vinegar and oil. Grilled bread included. (GF-A)

19.50

Mushroom Parmesan


In a hot ramekin dish, Chef gently sautes fresh brown mushrooms with herbs, virgin olive oil, and a touch of butter. The Tapa is finished with shaved Parmesan and served with grilled sourdough toast to create a serving for two. (GF-A/V/VEG-A)

14.00

Olives Bungendorable™


Only at The Carrington can you get this dish of locally grown and cottage cured olives prepared by our Chefs. These fresh and tasty green and black olives are marinated with rosemary, garlic, lemon and oil. Served with sourdough toast. (GF-A/V/VEG)

15.00

Pig and the Prawn


This classic Tapa dish combines generous portions of shrimp and chorizo combined in a glorious casserole sauce of pressed organic tomato, capsicum, garlic, olive oil and red wine vinegar. This share-plate comes hot and served with garlic toast.

16.50

Tom Wills Sliders


Chef has created a tasty three-sandwich variety plate: Lamb Burger, Pulled Chicken, and Barramundi. Each mini-sandwich has a unique sauce and quality bread. Pickled vegetables compliment. A meal for one or share with a friend.

16.50

Tuna Fresco


This beautiful dish can be Tapa or light meal. Sauteed French-cut green beans are tossed with roasted garlic aioli, then plated with sliced baby potato and semi-dried tomato. These are topped with 100 grams of grilled tuna. Bread included. (GF-A)

16.50
Winter Opening Times
Saturday and Sunday: 9:30a – 4:30p
Prices include GST.
Surcharge may apply to Sundays and Public Holidays
The Carrington Inn avoids GMO Ingredients whenever possible.