The Venue:  FLOCK is a friendly restaurant and beer garden located at the Carrington Inn – Bungendore.  It was first open in 1885 and is comprised of the heritage-listed inn building, bar, and outdoor courtyard and grounds.   The roadhouse's Mahogany Bar is from Bath England, where in 1830 the first drink crossed its counter.  Since being imported more than three decades ago to the Inn, it has been the location where people have come to celebrate friendships, achievements, special occasions, and just let their hair down.
Our Tom Wills Room is available for social gatherings, work celebrations, or small business presentations. The name of the room is drawn from Thomas Wentworth Wills, 19th century cricket and rugby sporting icon, hailed as founder of Australian Rules Football.  Tom was born in 1836 just up the road from the Inn near the property Foxlow, then owned by his uncle, soldier and settler, Henry Colden Antill.
The building's decor draws inspiration from the Victorian era of the building, and takes pleasure in incorporating late 19th century innovations of textured walls, coffered ceilings, and chesterfield leather seating.
Its use of deep blue, red and green tartan wall colours and pure copper ceiling in the cosy bar, wraps the space around a visitor like a comfortable coat.  Its uncurtained small pane glass windows, simple slate fireplace, and natural wooden floors are recognisable notes of colonial civilisation, arousing and innate sense of roots and arrival.
The courtyard and the Elm Park Garden are open to the sky above for outdoor gatherings. The garden is a quiet oasis from the main road, shaded by mature trees. There, guests share a sense of the original spaciousness of the yard. Behaved dogs are welcome if on a lead. Our intention is to create a welcoming, relaxing, family friendly environment in which to catch up with friends over a meal and drink.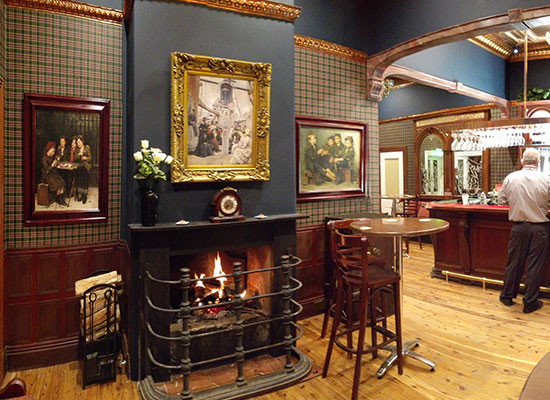 The venue's name is inspired by the kookaburras on the Carrington Inn logo of whom you'll often hear in the gardens at dawn and dusk singing their distinctive calls. Flock is the collective noun for kookaburras.
Did you know Kookaburras mate for life and build their nests in a tree hollow or in a burrow excavated from a termite mound. Both parents incubate the eggs and care for the chicks.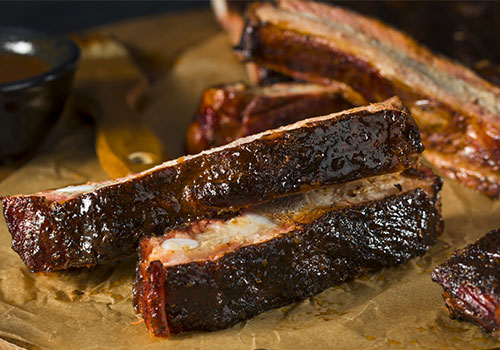 The Food & Beverage:  The  menu provides a variety of gastropub fare for a full meal or just a nibble if you are not too hungry.   The roadhouse is a wholefood establishment that uses local produce when available.
The menu draws primarily on steakhouse precedents tempered by a good sense of proportion.  While oriented toward red meat mains, it certainly caters well for other protein eaters as well as vegetarians.  Young persons are catered for with a number of healthy and affordable selections.
The roadhouse's small-plate food offerings are made to be shared.  Its treats make munching and drinking with friends fun.  Guests wishing to have a full meal in our hall or courtyard can order from the full menu.  Our service is not rushed, giving you time to socialise.
Our drink selection includes craft and popular draft beers, mid-to-top shelve spirits, and a regional and international wine selection of recognised estates and good character. The selection is aspirational and rewarding.
The tavern's heated veranda provides a dry and warm space to take in food, drink and fresh air for much of the year. Live music is occasionally performed Sunday afternoons in the courtyard, just as the Winter-Gallagher family did a century ago.
FLOCK is available to host your next gathering.
Whether that be a birthday party, holiday party, or any special event, we can look after you.
Scott Preston, Manager
LOOK FOR OUR CHALKBOARD MENU TOO
Specials, Favourites, Seasonal Try-Outs    
Arancini


– Mixed wild mushrooms w/ parmesan cheese and fresh herbs w/ creamy garlic sauce




18

Buffalo Chicken Wings
– Freshly fried Buffalo style chicken wings, coated in your choice of smokey BBQ sauce or Buffalo chilli


18

Cheesy Garlic Bread  GFO


12

Heirloom Bruschetta – GFO


22

Pork Belly Bao Buns


– BBQ maple Pork belly pieces w/ pickled carrot & shaved cucumber, in a steamed bao bun




19

Saffron Prawn Hot Pot – GFO


– Garlic & Saffron marinated prawns, served in a herb and Neapolitan sauce w/ warm sourdough




24
Beef Burger – GFO
– Juicy beef patty, bacon, pickle, onion rings, lettuce, Smokey tomato relish & truffle aioli – served w/ steak cut chips


25

Fried Chicken Burger
– Buttermilk battered chicken, bacon, cheese, coleslaw & Sriracha aioli – served w/ steak cut chips


24

House Pie Special


– Flavour of the week encased in flaky puff pastry w/ seasonal 

vegetables.  (Please see our wait staff for details)


34

Panko Crumbed Schnitzel


– Panko and herb crumbed chicken breast, w/ steamed greens, warm bacon, parmesan and shallot potato salad, and red wine gravy




28
350G/500G Angus Rump – GF


– Grain fed beef rump w/ steamed vegetables, duck fat potatoes and port thyme jus




38/46

300G Scotch Fillet – GF


– Scotch fillet on a creamy garlic mashed potato w/ mixed vegetables, field mushroom and rich red wine reduction (V, GF)




43

Braised Lamb Cannelloni


– 3 cheese & spinach stuffed cannelloni served on a slow braised red wine lamb Ragù




32

Chicken and Green Pea Risotto GF/VO


– Chicken breast pieces, pancetta & green peas, topped w/ truffle oil and mascarpone




28

Crisp Pork Belly – GF


– Twice cooked pork belly on duck fat potatoes and charred broccolini, topped w/ chilli pickled apple and a brandy reduction




36

Grilled Veg Stack – GFO/V


– Fried haloumi, roasted sweet potato, broccolini, baby beetroot, glazed Dutch carrots and field mushrooms on Neapolitan sauce w/ fresh basil pesto




27

Reuben Sandwich


– House smoked pastrami, sauerkraut, Swiss cheese & Russian dressing on toasted rye – served w/ onion rings




26

Seared Barramundi Fillet – GF


– Pan seared Barramundi fillet w/ smoked Romesco w/ sumac roasted cauliflower and a pickled fennel salsa




36
Garden Salad


– Mixed green leaf salad with, tomato, cucumber, onion, dressing




8.5

Veggie Salad – GF
– Roasted sweet potato, cherry tomatoes, carrot, broccolini w/ wild rice, avocado, mixed lettuce, quinoa w/ honey soy sesame dressing


24

Pork Salad – GF
– Crispy pork pieces, cabbage bean shoots, capsicum, Wombok and mixed lettuce w/ a chilli lime dressing & fresh herb


26

Mixed Steamed Vegetables


10

Duck Fat Potatoes – GF


– Slow roasted duck fat potatoes




8

Garlic Mashed Potato


6.5

Steak Cut Chips – GF


9.5

Sweet Potato Fries – GF


11
Carbonara


– Creamy Alfredo base, onion, bacon, chicken, parmesan & 

fresh shallots


23

Carnivore – GFO
– Spanish onions, bacon, chorizo, pork belly, smoked chicken & Fetta cheese


24

Chicken Pesto – GFO
– Chicken breast, Chorizo, sundried tomatoes, Jalapeños, Fetta cheese & fresh basil pesto


24

Margherita – GFO
– Sliced fresh tomato, Buffalo Mozzarella, fresh basil & sea salt


22

Mushroom – GFO
– Mixed mushrooms, Buffalo Mozzarella, oregano & truffle oil


22

Prawn – GFO


– Spanish onion, roast capsicum, cherry tomatoes, marinated

   prawns, aioli & fresh dill


25

Veggie Supreme – GFO


– Baby spinach, onion, roasted capsicum, cherry tomatoes,

mushroom & olives


24

Gluten Free Bases + $5.00
Apple Pie Pizza
– Baked custard base topped w/ stewed apple, toasted cinnamon crumble mix and ice cream


19

Passionfruit Parfait – GF
– House made parfait served w/ raspberry coulis and meringue pieces


14

Warm Choc Mud Cake
– Freshly baked chocolate cake served w/ hot fudge sauce, vanilla raspberry coulis & cream


16
Cheese and Bacon Pasta


12

Fish, Chips, Salad


12

Kids Pizza & Chips – GFO


14

Nuggets, Chips, Salad


12