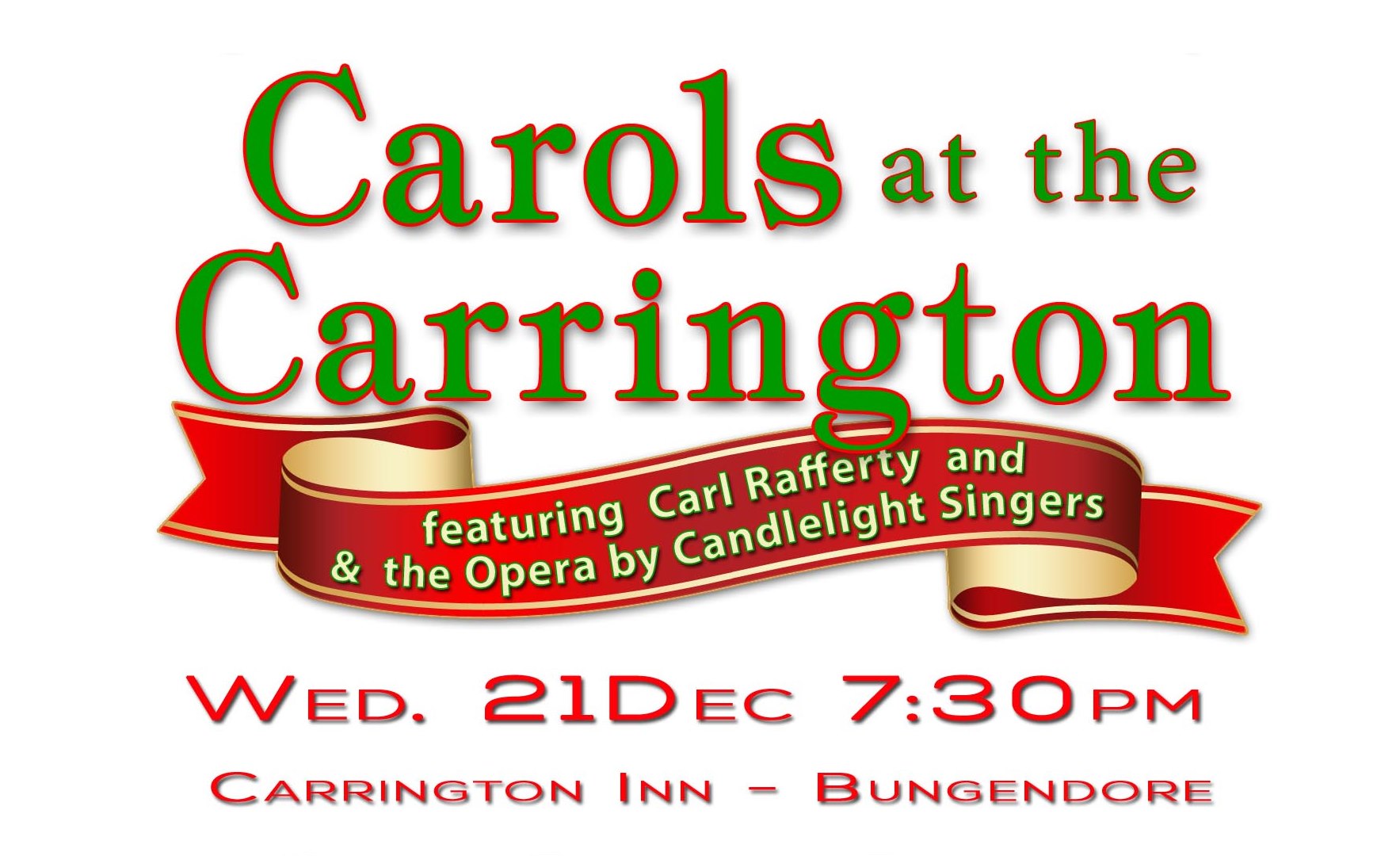 Bungendore, NSW  5 December 2016 – Richard Graham, Director and Innkeeper of the 1885 historic Carrington Inn, announced an evening of a 'fun and classy' Christmas program of music, carols and poetry – Carols at the Carrington.
The performance will be held under the stars, with a grand piano, in the recently refurbished gardens of the Inn, on Wednesday 21 December.  This special evening of music will be performed by the renowned Opera by Candlelight singers, and led by talented and colourful impresario Carl Rafferty.  The songs will include a mix of traditional and modern holiday fare, including some for guests to sing-along with.
Mr Graham said, "We feel very fortunate to secure Mr Rafferty and the Opera by Candlelight singers for the Carrington's first garden party since its historic refurbishment."
He went on to say, "As part of the Inn's refurbishment, I've done a lot of research.  I was surprised to find that while the first Christmas music can be traced to fourth century Rome, carols as we know them today only gained popularity in the latter half of the 19th century.  What is significant about that is it is when Bungendore was being settled, and the Carrington Hotel was built by Mr William Winter?"
On the longest day of the year, Carrington's ELM PARK Garden will be at its twinkling best.  The Carrington food and beverage marquee will open from 6:00pm with pre-show fare.  And the Inn's TOM WILLS tavern will open early, at 4:30pm, so ticketholders can have pre-show dinner if they wish.  The performance begins promptly at 7:30pm.
"The proceeds from the program will be donated to the Abbeyfield House Bungendore project and the Salvation Army," Richard stated.
Admission is by pre-bookings only. There will be no ticket sales on the night.  Tickets are available online from the Carrington's website or Eventbrite.  General Admission is $25 for adults, $12.50 for children, and $50 for a family ticket (2A+2C).  Admission price includes hot and cold soft beverages.
The Innkeeper concluded by saying, "We're excited about this program. For some reason, holiday music gives us such a buzz, and makes us feel happy inside, regardless of our age? It's our goal that the Carrington becomes a source of family-friendly functions and great long-term personal memories. We intend Carols at the Carrington to become an annual occurrence in our village for both locals and visitors wanting that small-town feeling, if only for an evening."
[END]  Rev: TCI-20161205-1
The Carrington has been a cornerstone of the rural New South Wales village of Bungendore for more than a century. The Inn was established in 1885 as a hotel and coaching station, by William Daniel Winter.
Originally called the Lord Carrington Hotel, the name was shortened in 1890 to the Carrington Hotel.
Its proximity to Canberra has made it a popular destination for both regional locals and tourists.
For further information, contact:  General Manager, Mark Summers ([email protected])
www.thecarringtoninn.com.au
The Carrington Inn – 21 Malbon Street – Bungendore, NSW – 2621 – Phone: 02-6238-1044