Private Dining for Your Special Occasions
The Carrington Inn has a number of special rooms for private dining.
Whether it is a milestone birthday or anniversary, an important business dinner, or just an occasion where friends are getting together to share good times, the Carrington has a private dining room solution to make those moments stay private.
The Wintergarden restaurant can provide a private dining rooms for as few as 12 people or as many as 40.  For cocktail parties, the restaurant can comfortably accommodate more than 100 guests. For larger parties our Rose Cottage can accommodate up to 100 guests for dinner or 200 guests for cocktails and canapes.
The Private Dining Rooms:  The decor of the Empire Salons interprets the aspirational orientation of the Victorian era when the inn was built.  It incorporates many aspects of the times including textured walls, heavy drapery, faux marble mantles, chandelier lighting, and piano and phonograph.
Each room has been decorated from ceiling to floor to present a complete experience. The colours are strong but so in balance with the other elements of the room that they feel more muted than they are.  Each room projects respect and warmth and expresses individual aspirations.
The Carrington Room has overtones of business and success.
The Erin Room is humble and focused on social feelings.
The Renoir Room is intimate and romantic.
The Tom Wills Room is made for a small chummy crowd. And,
The Empire Hall is a rewarding and regal space for banquets and feasts.
All private dining rooms have their own working fireplaces.
The dining tables can be set in the informal style or they can be dressed to the nines with full linen,  the Inn's premium tableware and cutlery, place cards, and even candelabras. Our goal is to fit in with the tone of your occasion.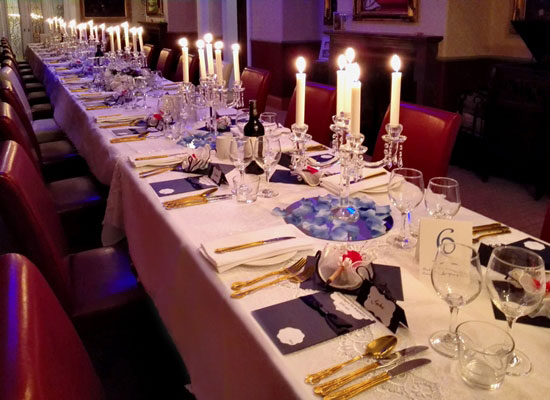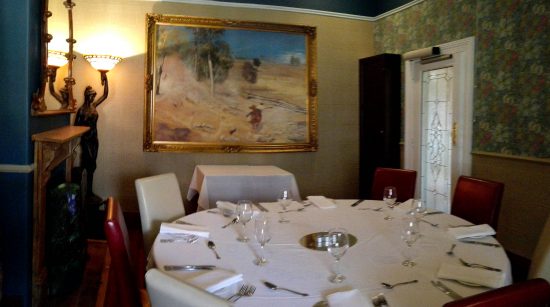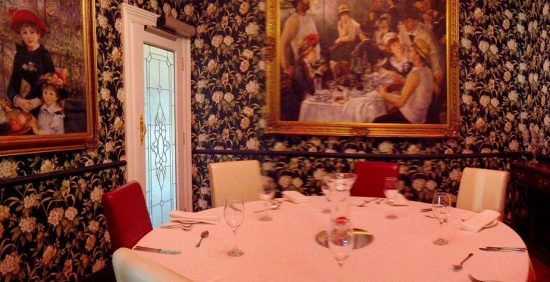 Food and Service:  The menu for private dining functions is generally drawn from our classic functions menu.  Dinner organisers seeking something special or matching a particular theme, like a holiday or 'that special meal', can sit down with our chef to define a menu that perfectly suits the occasion.
For private dining, the organiser will generally select a single menu that all guests will be served, similar to a dinner party at home.  However, it is possible to arrange dual entrees and dual mains that are served alternatively to guests.
Private Dining guests enjoy their meals in the comfort and heritage of the Empire Hall or one of the smaller Empire Salons. Our service is not rushed and gives guests time to converse and drink. We would like you to allow yourself at least 2.0 hours to enjoy your private meal with us.
The benefits of private dining include, privacy, dedicated waiter, choice of music style or your own playlist, fireplace, fine tableware and linen, in-room coat closet, on-site parking.  Special decoration available on request – flowers, bonbons, balloons, etc.
Private dining parlours may be reserved for parties of 12 or more guests, when available.  A deposit, and minimum spend per guest may be a condition of a private dining booking.