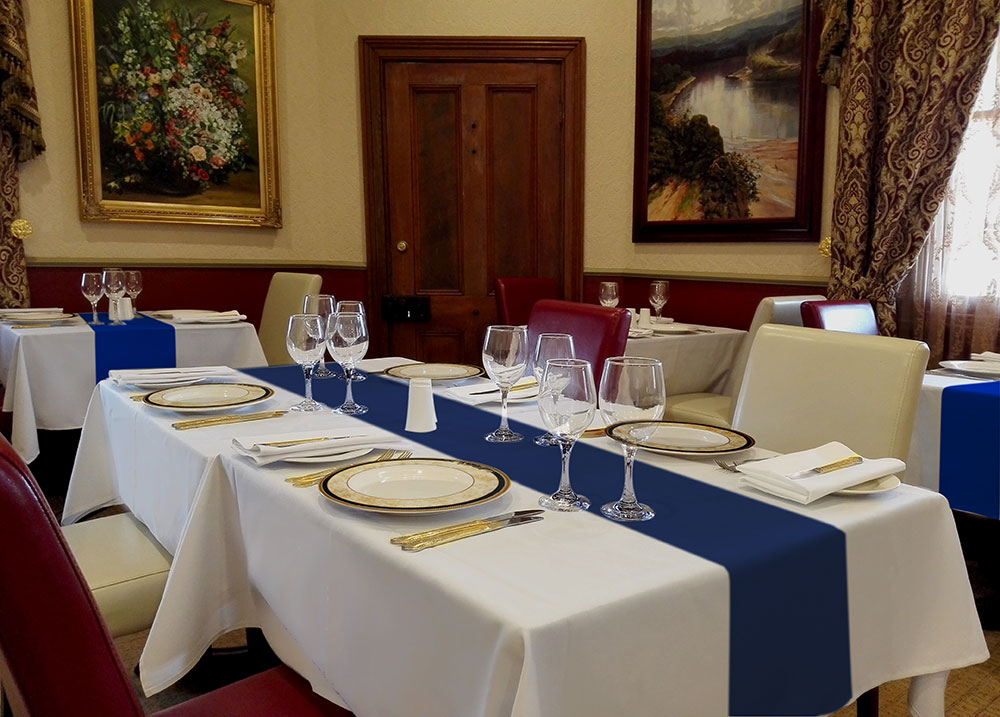 Bungendore, NSW 1 September 2016 – Carrington Inn, Executive Director and Innkeeper, Richard Graham announced today that the Inn has completed its refurbishment campaign and will reopen to the public from 5 October.
In an era of loud and egocentric restaurants, Graham says he is calling time-out to harried pretentious dining, to recreate timeless social dining experiences that fit comfortably in modern times and lives.
His team's mission is not to just provide outstanding food and service, but to imbue their patrons with an immersive experience that leaves them happier, healthier, and more poised than before they arrived.
On the half-acre site, they have created what will inevitably become one of the premiere dining venues in the region – the Carrington Inn Wintergarden restaurant complex. From the old 1885 Carrington Hotel, a roadhouse inn, they have created three points for guest engagement that are both distinctive and complementary: The Empire Salons for fine and private dining; The TOM WILLS™ Tavern and Tapas Courtyard for fun socialising; and Myees™ Garden Room for casual beverages and sweets; as well as the ELM PARK Event Garden for weddings and special events.
The Empire Salons are the Inn's venue for aspirational and rewarding fine dining. They are a place to escape from the rushed, noisy and too familiar world of today, to a warm reflection of an era contrary to all that. The name is drawn from Australia's origins at the time of the Inn's creation. Its space is comprised of the Empire Hall and three private dining rooms.
The TOM WILLS Tavern and Tapas Courtyard is the Inn's venue for relaxed and pleasurable socialising. It is a place for people to meet, drink, eat and celebrate. The name is drawn from Thomas Wentworth Wills, 19th century cricket and rugby sporting icon and hailed as founder of Australian Rules Football. Tom was born in 1836 just up the road from the Inn near the property Foxlow.
Myee's Garden Room is the place for wholesome light refreshments for accommodation guests and visitors. It is named after Ms Myee Gallagher, granddaughter of William D. Winter. Myee lived in the hotel throughout her life, and brought much cheer and grace to the town through teaching piano, sewing, and painting, and her charitable works.
The name of the Wintergarden is drawn from free settler colonist William Danial Winter, who built the hotel by hand between 1884 and 1885, the year the railroad came to Bungendore. He originally called his roadhouse the Lord Carrington Hotel, after then NSW Governor, Charles Robert Carrington, but was later shortened to the Carrington Hotel when the good governor retired.
Richard Graham said, "The Wintergarden complex is a regional venue for relaxed and pleasurable socialising. It is a place for people to eat, drink, and be merry. It's a place where it's OK to feel aspirational and acknowledged".
"The world these days seems to be about being rushed and shallow, or maybe it's just how it feels as you get older, like myself. Today, we lived with deadline after deadline, virtual friends, and don't get much value for money," he went on to say. "I've created this new venue not just to feed and water people, but more so to create a portal through which the present gains from the past; rushed is trumped by unhurried; and shallow is drowned by depth. A place for people to be comfortable being themselves; a place for them to 'do happy'."
As Mr Graham has no hospitality experience himself, he is recruiting a team of world-class and 5-Star management team to implement his vision. Graham said, "I've come to this commitment, not as a chef or a promotor looking to make a name for myself. I've already done that a few times in technology. My ego is sated. No, I come to the Wintergarden project from the perspective of a restaurant patron who is looking for wellbeing, acknowledgement, respect and of course remarkable food."
Mr. Graham says that while the new Wintergarden complex will look like a "classy place", it isn't about class distinctions. "The 'upper 10% doesn't hold a patent on wishing to aspire or needing to feel acknowledged. Those are human qualities we all have.
"If it can't be classy while also being classless, then we've failed before we've begun. But I've lived six decades so far as a visionary, and I've found that if you can envision it, you can create it. If that truism continues to hold, then the new Carrington Inn Wintergarden will become a hugely important social pacemaker and make a difference to people near and far," he concluded.
The Inn has created a new website to coincide with the restaurant launch – www.thecarringtoninn.com.au. There, they are assembling the heritage background story of the Inn and the Winter family who established it. Mr Graham says that recovering the heritage DNA is important to the experience he hopes patrons will feel. Much research has been performed this year including capturing oral histories of mature Winter family members, and troving through a century of newspaper articles. The website currently has a small section regarding heritage, with more slated to come online in the coming months.
The Wintergarden itself is 3 restaurants in one.
The Empire Salons is for 5-Star fine dining, complete with custom-made tableware and 22ct gold-plated cutlery, open Wednesday through Sunday. The menu is an $85 fixed price 3-course, or $100 4-course offering that seeks to present colonial and Australian inspired food, interpreted for 21st century pallets and presentation. Carrington's Flavours of Australia menu items feature uniquely prepared Australiana meats, herbs, and produce.
The TOM WILLS Tavern and courtyard offers a popular tapas-like menu, which is a wide variety of cold and hot appetizers that can be consumed as shared snacks, or patrons can order many different tapas and combine them to make a full meal. Individual tapas plates start at $10 and most diners would be feeling pretty full for around $35 per person. The TWT has a selection of 8 draft beers and a good wine cellar that will satisfy most palates and budgets. Tapas will be served Wednesday through Sunday 11:30am til 9:00pm.
And lastly there is Myees Garden Room, a conservatory-like tea room dedicated to the art of rural high-tea. With its own 5-Star pastry chef on-site to make fresh mini-gateaux, petit four, macaroon, handmade chocolates, and Eton mess to mention a few treats, Myees' is set to transform the experience of just having a cuppa with friends. Its inventive MyTea™ offering provides individualised high-tea any day of the year, for just $30 per person. Myees is also introducing 'nitro coffee', an exciting cold coffee on tab, with a big crema head. Simply brilliant. Myees will be open daily 7:30am til 3:00pm
The Empire Salons require reservations, which can be made online at the Inn's website, at DIMMI online, or by calling the Inn on 6238-1044. No reservations are required for the TOM WILLS or Myees, although they are accepted for MyTea parties of 8 or more guests.
[END] Rev: TCI-20160901-1
---
The Carrington has been a cornerstone of the rural New South Wales village of Bungendore for more than a century. The Inn was established in 1885 as a hotel and coaching station, by William Daniel Winter. Originally called the Lord Carrington Hotel, the name was shortened in 1890 to The Carrington Hotel. Its close proximity to Canberra (just 25 minutes from Parliament House) has made it a popular destination for both regional locals and tourists.
For further information, contact:
Executive Director, Richard Graham. ([email protected])
www.thecarringtoninn.com.au
The Carrington Inn – 21 Malbon Street – Bungendore, NSW – 2621 – Phone: 02-6238-1044