Reservations are Recommended for Lunch and Dinner
Open Wednesday – Sunday
The TOM WILLS® Tavern and Tapas Courtyard is the Inn's venue for relaxed and pleasurable socialising.  It is a place for people to meet, celebrate, drink and eat.  The name of the tavern is drawn from Thomas Wentworth Wills, 19th century cricket and rugby sporting icon and hailed as founder of Australian Rules Football.  Tom was born in 1836 just up the road from the Inn near the property Foxlow, then owned by his uncle, American born soldier and settler, Henry Colden Antill. While Tom tragically passed away in 1880 before the Inn was built, his story is as rich with meaning for people of the 21st century as it was in the 19th century.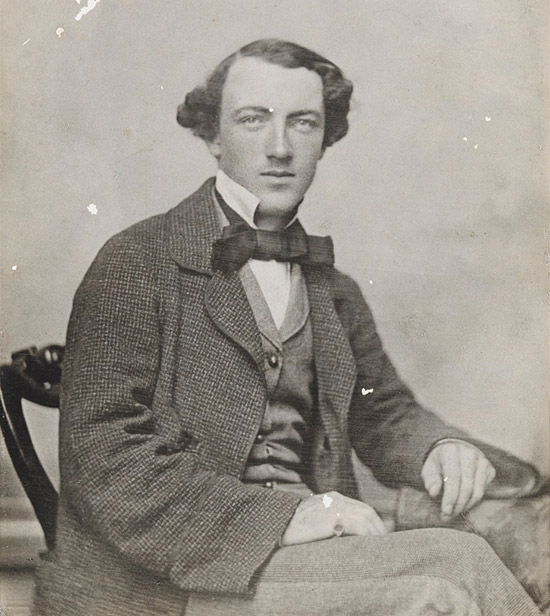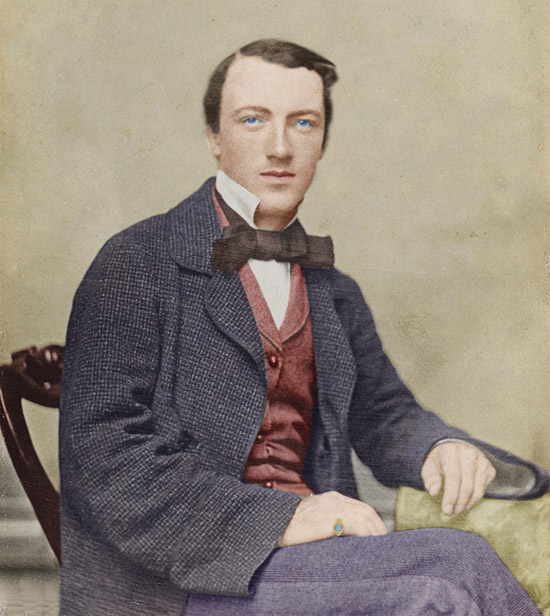 Thomas Wentworth Wills – c.1860
Restoration © 2016 TCI
The Venue: The TOM WILLS space is comprised of the cosy indoor tavern, sheltered outdoor courtyard, and the private Tom Wills Room.   The tavern's Mahogany Bar is from Bath England, where in 1830 the first drink crossed its counter.  Since imported more than three decades ago to the Inn, it has been the location where people have come to celebrate great friendships, achievements, special occasions, and just let their hair down.
The decor of The TOM WILLS draws inspiration from the Victorian era of the building, and takes pleasure in incorporating late 19th century egalitarian innovations of textured walls, coffered ceilings and electric lighting.
Its use of deep blue, red and green tartan wall colours and pure copper ceiling, wraps the space around the visitor like a comfortable coat.  Its uncurtained small pane glass windows, simple slate fireplace, and natural wooden floors are recognisable notes of colonial civilisation, arousing and innate sense of roots and arrival.  It speaks of a time when the middle classes were ascending into the early 20th Century.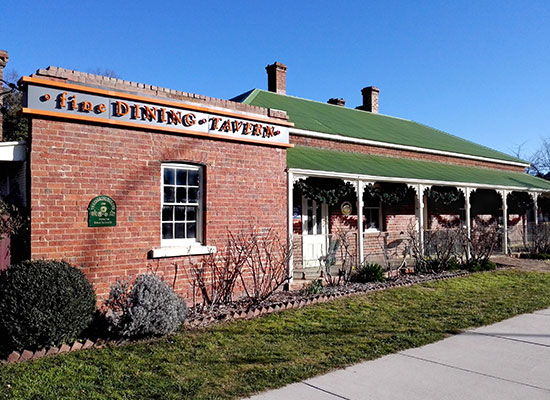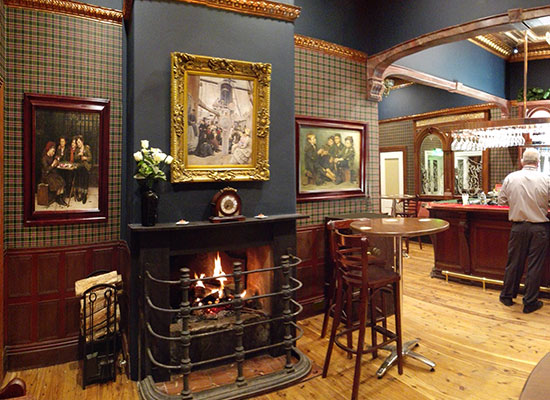 The Food & Beverages: The courtyard is open to the sky above and the Elm Park Garden to the west. There, guests share a sense of the original spaciousness of the yard.
The menu draws its inspiration from English and Irish tavern inn traditions, but interprets them in a gastropub style for the 21st Century guest.  The result is distinctively modern Australian – distinctively Carrington Inn – Bungendore.  All items are prepared fresh with wholefood ingredients.
The Tavern does not seek to duplicate what can be provided by other establishments.  The Tavern's specific food offerings are made to be shared.  Its tapas-like treats make munching and drinking with friends fun, and strengthen personal bonds.  Guests wishing to have a full meal in our tavern or outdoor courtyard are also welcome to order from the Wintergarden's á la carte menu.  Our service is not rushed and gives you time to converse, drink, and digest one course before you are served the next one. We would like you to allow yourself an hour or longer to enjoy your meal and drinks with us.
The TOM WILLS drink selection is a premium selection of draft beers, mid-to-top shelve spirits, and a wine selection of recognised estates and good character. The selection is aspirational and rewarding.
The Tavern's heated veranda provides a dry and warm space to take in food, drink and fresh air for much of the year. Live music is generally performed  Sunday afternoons in the courtyard, just as the Gallagher Family did a century ago.
The Tom Wills Tavern & Courtyard Menu
Please Note: Our menu is available throughout the Wintergarden – inside and outside.   When served in the Empire Salon parlours, there is a $4.00 per person surcharge for the extra level of setting and service provided there.
Thank you.
11:30a – 2:30p  &  6:00p – 9:00p
Entrees
Basking at the Red Sea


Chef creates this tasty entree, preparing your large garlic King Prawn and seating him on an island of lemon & parsley risotto surrounded with a sea of delicious handmade tomato vinaigrette puree. Bright lemon sun completes the scene. (Shellfish) 

20.50

Chicado On Green


A healthy and delicious entree to compliment any main. Chef tosses lightly grilled vegetables with fresh leaves, avocado, semi-dried tomatoes and virgin olive oil, crowning the entree with sliced grilled chicken tenderloins and a lemon wedge. (GF)

18.00

Palette de Petoncle


Starting by pan-frying fresh seasoned scallops to perfection, Chef uses crispy bacon, sweet black garlic jus, burnt onion puree and pickled egg-yolk confit, to prepare a palette of colours and savoury flavours to display them upon. (GF/Shellfish)

22.00

Pumpkin Cappuccino


This is a clever start to a delightful dining experience. Creamy soup puree is served in a clear glass and topped with a layer of fluffy Parmesan foam to create the 'cappuccino' appearance. It is completed with petit truffle donuts. (GF-A/V/VEG-A)

15.50

Rose Fillet


This entree provides a lovely counterpoint to Chef's non-meat main courses. Red wine marinated beef fillet is lightly seared and set with a rosette of asparagus and pickled red bell pepper. Bacon Jam condiment produces a memorable flavour finish. (GF)

21.50

Sweet Nanny Goat


Chef has created a regionally sourced entree rich with flavour and textures. Atop a swoosh of honey & thyme pesto, alternating quenelles of goat cheese and homemade tomato marmalade are crowned with large fresh Carrington herb croutons. (GF-A/Nuts/Diary)

18.50
Mains
A Full Breast


This healthy, uplifting meal delivers on flavour and nutrition. Chef prepares free-range chicken breast stuffed with bacon and mushroom, then adds kipfler potatoes, baby vegetables, homemade tomato confit and finishes with garlic-thyme jus. (GF)

32.50

Crackling Locks


For this entree, Chef uses golden curls of crackling to accent beautifully roasted pork. These are set on a harvest of sweet potato puree, apple confit, seasoned vegetables, black beans, and bound by a jus of apple-mustard with Irish Whisky. (GF)

30.00

Mary's Other Lamb


On a foundation of sweet potato gnocchi, grilled eggplant, and reduced tomatoes, Chef places beautifully prepared lamb medallions. Crowned with zucchini and feta the dish is completed with a gourmet mint jus. All elements are freshly prepared. (GF-A/Dairy)

39.00

Pasta du Jour


Chef is passionate about pasta. Each week his team makes fresh pasta by hand for this dish. It is a complete Main Course, dressed and beautifully finished, containing protein suitable for both vegetarians and non-vegetarians. Your server will tell you more.

28.50

Salmon via Asia


Tones of Asian cuisine delight this dish. Pan-fried ocean salmon is placed on a bed of Asian steamed vegetables. Chef trims the fish with crisp salad and sesame sauce. Pickled white radish garnish and rice complete Chef's taste holiday. (GF-A/Seeds)

30.00

Silver Fusion


Chef beautifully grills fillet of Silver Bream and seasoned pappardelle vegetables, completing the dish with saffron mash potatoes, crisp julienne vegetable salad, and salmon croquettes. The distinctive Carrington fusion retains its taste clarity. (GF-A)

25.50

Taste-full Beef Medallions


Chef positions beautiful eye-fillet medallions marinated in herbs atop seasoned kipfler potatoes, baby vegetables, and pan-fried mushroom. He signs your meal with a swoosh of truffle-pea puree and homemade red wine jus. Classic. (GF-A)

41.50
Sides
Saffron Mash


Light and fluffy fresh mash potato with a hint of saffron and garnish. Serving for two. (GF/V/VEG)

9.00

Secret Garden Salad


A colourful single serve garden side salad with flair. Salad is served with Carrington's handmade house dressing or vinaigrette. (GF/V/VEG-A)

9.00

Seasoned Seasonal Sensational


Chef de Party prepares for you a small selection of seasonal vegetables, steamed and lightly seasoned. Serving for two. (GF/V/VEG)

9.00

Vive la Fries


French fries as they should be – thin, crisp, golden, seasoned, and served with garlic aioli. (GF/V/VEG)

9.00
Desserts
Cheesy Plate


A delicious selection of a blue and soft cheeses, complimented with condiments of nuts, jam, and Lavash flatbread. Serving for two.

24.00

Ferro Rocher Affair


This is an extraordinarily rich layered chocolate mousse slice, styled with pure fruit puree and flair. This is a chocolate affair to remember.

16.00

Fruit and Cream


A delightful presentation of a classic favourite. It features fresh fruit pieces with quenelles of vanilla ice cream, signed by Chef with a sweet swirl. (GF-A/V) 

16.00

My RhuBarb Crumbled


A historical Carrington favourite, updated by Chef with a bit of humour. The dish deliciously integrates fresh cooked rhubarb, strawberries, whipped cream, and a crumbly cookie base, leaving you wanting more.

16.00

Chocolate Lava Cake


This is a wicked chocolate cake with a warm liquid centre! OMG. Tart raspberry puree constrains the sweetness, while a quenelle of orange-vanilla ice cream finishes putting a smile on your lips.

16.00
Opening Times
Wed – Thurs: 11:30a – 9:30p
Fri – Sat: 11:30a – 11:30p
Sun: 11:30a – 8:00p
Dining Service Times
Lunch Service: Wed – Sun: Noon – 2:30p
Dinner Service: Wed – Sat: 6:00p – 8:20p+
Sun: 6:00p – 8:00p+
(NB: Times noted are for taking food orders, not closing times.)
Booking Recommended
Menus Selections Change Seasonally.
Prices include GST.
Surcharge may apply to Sundays and Public Holidays
The Carrington Inn avoids GMO Ingredients whenever possible.