Reservations are Recommended for Lunch and Dinner
Welcome to Pleasant Dining
The Empire Salons are the Inn's venue for satisfying and rewarding  dining.  They are a place to escape from the rushed, noisy and too familiar world of today, to a warm reflection of an era contrary to all that.
The salons are comprised of the Empire Hall and three private dining parlours – the Carrington, the Éirinn, and the Renoir.   For more than a century these rooms have served as the core of the building's living, social, and commercial spaces where people came together.
The Venue:  The decor of the Empire Salons interprets the aspirational orientation of the Victorian middle-classes around the time the inn was built.  It incorporates many aspects of the times including textured walls, heavy drapery, faux marble mantles, electric light and phonograph.
Its use of deep maroon, white, creams, and gold colours give the Empire Hall notes of Regal respect, while the strong colours and ceiling treatments of the other rooms express strong individual aspirations.  There are five working fireplaces in the Empire Salons.
The spaces are essentially gender neutral, acknowledging the egalitarian orientation of Australian society. Its sculptured ceilings lifting out and above the rooms, symbolises the higher aspirations of Australian ambition. The Empire Salons' décor does not attempt to represent life in the town at 1885, but rather an experience of the aspirational possibilities of the time.
Tables can be set in two styles, depending on the menu being served. For the restaurant's gastro-tavern menu, table settings are placed on polished wood table tops, with linen napkin, place-mats and silver cutlery. For special occasions, such as when a dinner host arranges for a 5-Star degestation menu, tables are set with full linen and premium tableware.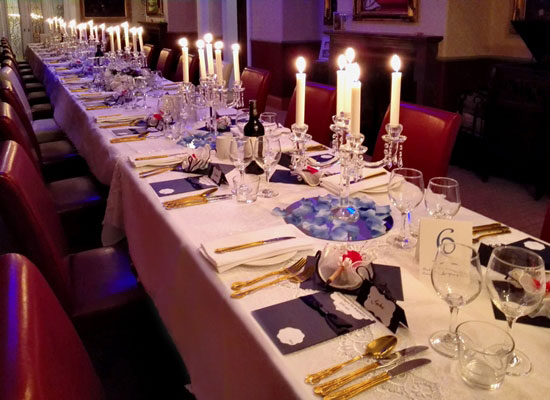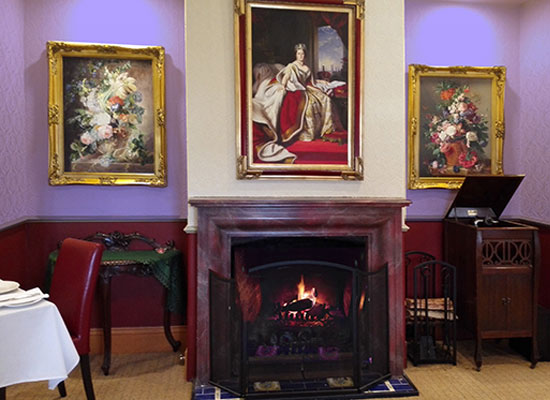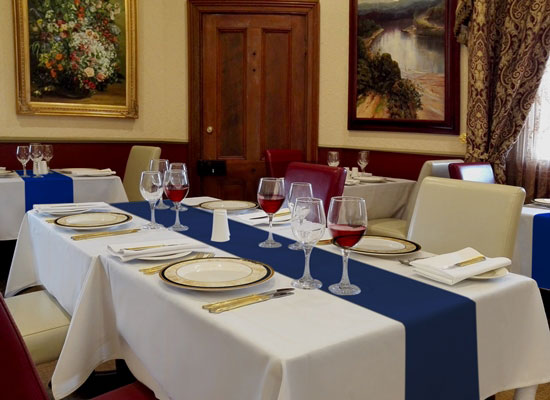 The Food and Service:  The Empire Salons is a fresh wholefood establishment that uses local produce when available.
The menu draws its inspiration from the melting pot of culinary cultures that was colonial Australia – English, Irish, Indigenous, American, and Asian – but blends them with unique interpretations for the 21st Century palate.  The result is distinctively modern Australian – distinctively Carrington Inn – Bungendore.  Food is prepared on-site with fresh and whole ingredients.
Dinner and lunchtime dining in the Empire Salons offers a creative á la carte menu.  Guests can select and enjoy entrées, mains, and desserts in the comfort and heritage of the Empire Hall.  Our service is not rushed and gives you time to converse, drink, and digest one course before you are served the next one.  We would like you to allow yourself at least 60 to 90 minutes to enjoy your meal with us.
Hosts of dinner parties with 10 or more guests, can reserve a private dining parlour when available.  On those occasions, guests can either order from the á la carte menu or, prior to the dinner, the host can arrange for an aspirational 5-star degustation fine dining menu served on fine tableware and linen.
Live music is generally performed Sunday afternoons in the tavern courtyard,  just as the Gallagher Family did a century ago.
Empire Salons Menu
Please Note: Our menu is available throughout the Wintergarden – inside and outside.   When served in the Empire Salon parlours, there is a $4.00 per person surcharge for the extra level of setting and service provided there.
Thank you.
Entrees
Basking at the Red Sea


Chef creates this tasty entree, preparing your large garlic King Prawn and seating him on an island of lemon & parsley risotto surrounded with a sea of delicious handmade tomato vinaigrette puree. Bright lemon sun completes the scene. (Shellfish) 

20.50

Chicado On Green


A healthy and delicious entree to compliment any main. Chef tosses lightly grilled vegetables with fresh leaves, avocado, semi-dried tomatoes and virgin olive oil, crowning the entree with sliced grilled chicken tenderloins and a lemon wedge. (GF)

18.00

Palette de Petoncle


Starting by pan-frying fresh seasoned scallops to perfection, Chef uses crispy bacon, sweet black garlic jus, burnt onion puree and pickled egg-yolk confit, to prepare a palette of colours and savoury flavours to display them upon. (GF/Shellfish)

22.00

Pumpkin Cappuccino


This is a clever start to a delightful dining experience. Creamy soup puree is served in a clear glass and topped with a layer of fluffy Parmesan foam to create the 'cappuccino' appearance. It is completed with petit truffle donuts. (GF-A/V/VEG-A)

15.50

Rose Fillet


This entree provides a lovely counterpoint to Chef's non-meat main courses. Red wine marinated beef fillet is lightly seared and set with a rosette of asparagus and pickled red bell pepper. Bacon Jam condiment produces a memorable flavour finish. (GF)

21.50

Sweet Nanny Goat


Chef has created a regionally sourced entree rich with flavour and textures. Atop a swoosh of honey & thyme pesto, alternating quenelles of goat cheese and homemade tomato marmalade are crowned with large fresh Carrington herb croutons. (GF-A/Nuts/Diary)

18.50
Mains
A Full Breast


This healthy, uplifting meal delivers on flavour and nutrition. Chef prepares free-range chicken breast stuffed with bacon and mushroom, then adds kipfler potatoes, baby vegetables, homemade tomato confit and finishes with garlic-thyme jus. (GF)

32.50

Crackling Locks


For this main, Chef uses golden curls of crackling to accent beautifully roasted pork. These are set on a harvest of sweet potato puree, apple confit, seasoned vegetables, black beans, and bound by a jus of apple-mustard with Irish Whisky. (GF)

30.00

Mary's Other Lamb


On a foundation of sweet potato gnocchi, grilled eggplant, and reduced tomatoes, Chef places beautifully prepared lamb medallions. Crowned with zucchini and feta the dish is completed with a gourmet mint jus. All elements are freshly prepared. (GF-A/Dairy)

39.00

Pasta du Jour


Chef is passionate about pasta. Each week his team makes fresh pasta by hand for this dish. It is a complete Main Course, dressed and beautifully finished, containing protein suitable for both vegetarians and non-vegetarians. Your server will tell you more.

28.50

Salmon via Asia


Tones of Asian cuisine delight this dish. Pan-fried ocean salmon is placed on a bed of Asian steamed vegetables. Chef trims the fish with crisp salad and sesame sauce. Pickled white radish garnish and rice complete Chef's taste holiday. (GF-A/Seeds)

30.00

Silver Fusion


Chef beautifully grills fillet of Silver Bream and seasoned pappardelle vegetables, completing the dish with saffron mash potatoes, crisp julienne vegetable salad, and salmon croquettes. The distinctive Carrington fusion retains its taste clarity. (GF-A)

25.50

Taste-full Beef Medallions


Chef positions beautiful eye-fillet medallions marinated in herbs atop seasoned kipfler potatoes, baby vegetables, and pan-fried mushroom. He signs your meal with a swoosh of truffle-pea puree and homemade red wine jus. Classic. (GF-A)

41.50
Sides
Saffron Mash


Light and fluffy fresh mash potato with a hint of saffron and garnish. Serving for two. (GF/V/VEG)

9.00

Secret Garden Salad


A colourful single serve garden side salad with flair. Salad is served with Carrington's handmade house dressing or vinaigrette. (GF/V/VEG-A)

9.00

Seasoned Seasonal Sensational


Chef de Party prepares for you a small selection of seasonal vegetables, steamed and lightly seasoned. Serving for two. (GF/V/VEG)

9.00

Vive la Fries


French fries as they should be – thin, crisp, golden, seasoned, and served with garlic aioli. (GF/V/VEG)

9.00
Desserts
Cheesy Plate


A delicious selection of a blue and soft cheeses, complimented with condiments of nuts, jam, and Lavash flatbread. Serving for two.

24.00

Ferro Rocher Affair


This is an extraordinarily rich layered chocolate mousse slice, styled with pure fruit puree and flair. This is a chocolate affair to remember.

16.00

Fruit and Cream


A delightful presentation of a classic favourite. It features fresh fruit pieces with quenelles of vanilla ice cream, signed by Chef with a sweet swirl. (GF-A/V) 

16.00

My RhuBarb Crumbled


A historical Carrington favourite, updated by Chef with a bit of humour. The dish deliciously integrates fresh cooked rhubarb, strawberries, whipped cream, and a crumbly cookie base, leaving you wanting more.

16.00

Chocolate Lava Cake


This is a wicked chocolate cake with a warm liquid centre! OMG. Tart raspberry puree constrains the sweetness, while a quenelle of orange-vanilla ice cream finishes putting a smile on your lips.

16.00
Salon Dining Service Times
Lunch Service: Thurs – Sun: Noon – 2:30p
Dinner Service: Wed – Sat: 6:00p – 9:00p+
(NB: Times noted are for taking food orders, not closing times.)
Booking Recommended
Tavern Opening Times
Wed – Thurs: 11:30a – 9:30p
Fri – Sat: 11:30a – 11:30p
Sun: 11:30a – 8:00p
Menus Selections Change Seasonally.
Prices include GST.
Surcharge may apply to Sundays and Public Holidays
The Carrington Inn avoids GMO Ingredients whenever possible.