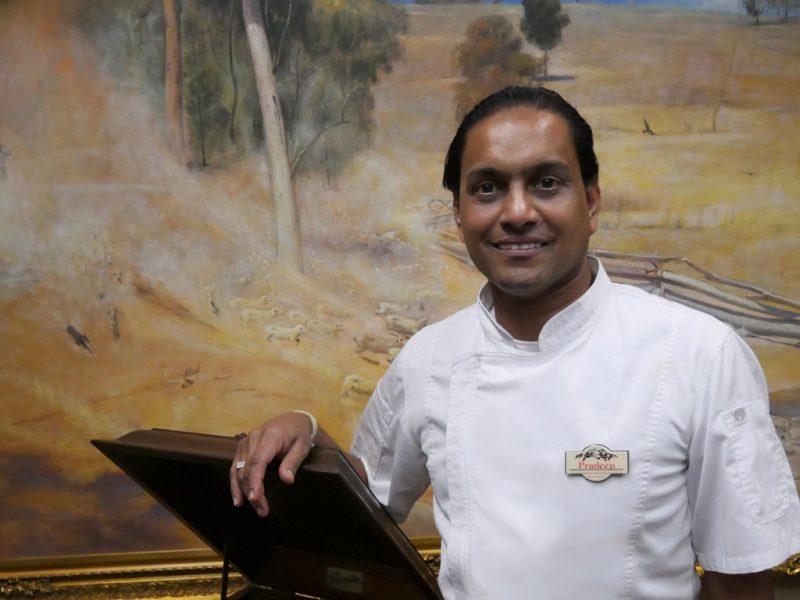 Bungendore, NSW 26 April 2017 – Iconic rural Bungendore hotel, the Carrington Inn, announces it has appointed 5-Star Chef Pradeep Manupriya to the role of Head Chef of the Inn's Wintergarden Restaurant and banqueting.
Since reopening the Carrington Inn's restaurant in October 2016, Innkeeper Richard Graham, says the new restaurant has been growing in patronage month after month. "It's been great to see the positive acceptance of the Carrington Inn's return to public dining and hospitality. Already, we have many regulars who have found us and are treating the tavern and restaurant as their place", Richard said.
Mr Graham, stated, "As with any new establishment you need to listen to the guests and patrons and adjust your offering and service, until you have it just right for them.  Today with the announcement of Chef Manupriya's promotion to Head Chef, the restaurant is taking a big step closer to having the food that makes dining out special."
Chef Manupriya has 19 years of culinary experience in Asia, Europe and the Middle East.  He trained under Chef Gordon Ramsay, and worked at Ramsay's 5-star, Ritz-Carlton Hotel, restaurant near Dublin for 5 years.  He was also chef at the Royal Mirage Hotel in Dubai, and at the American Embassy in Dublin.
"Pradeep brings to the Carrington Inn a wealth of culinary experience that cuts across many cultures.", Richard said. "Pradeep and his team have prepared a new menu for our Tom Wills Tavern and the Wintergarden dining parlours that I'm sure will please a lot of people.  He approaches food as a purist and with passion."
Chef Manupriya says he was first inspired to become a chef at age 17 when walking through the markets of his village, Ehaliyagoda, with his grandmother. There he understood the importance of freshness, flavours, textures, and presentation on the satisfaction and wellness of diners.  "I didn't want to be an ordinary chef.  I learnt to cook from the heart." Chef stated.
"I'm not a chef who orders food from a computer.  I go to market and select it myself, including the Bungendore Farmer's Market," Pradeep continued. "I change my menus and do my shopping by the seasons.  We don't need to buy food from France or Germany to be 5-Star. The local produce from local farmers and fishers is all you need. The rest is up to the chefs!"
Chef Manupriya's goal for the Carrington is to make it a hatted restaurant. "I have been around many Michelin restaurants as chef and as a patron.  One thing stands out is that most of them are not in cities but in the small villages in the countryside because that is where the farmers and the good ingredients are, like Bungendore," he stated. "I feel that Bungendore and the Carrington can achieve this distinction, and my team will strive to achieve that."
According to Innkeeper Graham, during the first 6 months of the Wintergarden's opening, the food was good but it didn't meet the level of expectation he was looking for.  It was more a gastropub style than the distinctive styles of genuine tapas for the tavern and quality dining for the parlours.  He said however, that he is excited by the direction Chef Manupriya is steering with the food offerings, with a new and fresh menu being launched at the Wintergarden on May 3th.
[END]  Rev: TCI-20170426-1
________________________________________
The Carrington has been a cornerstone of the rural New South Wales village of Bungendore for more than a century. The Inn was established in 1885 as a hotel and coaching station, by William Daniel Winter. Originally called the Lord Carrington Hotel, the name was shortened in 1890 to The Carrington Hotel. Its close proximity to Canberra (just 25 minutes from Parliament House) has made it a popular destination for both regional locals and tourists.
For further information, contact:
Executive Director & Innkeeper, Richard Graham. ([email protected])
www.thecarringtoninn.com.au
The Carrington Inn – 21 Malbon Street – Bungendore, NSW – 2621 – Phone: 02-6238-1044